Wedding Flowers Testimonials
Suzie's Wedding
"As our wedding was in my father's garden deep in the countryside at the height of summer,
I wanted flowers that looked like they could have picked from the garden that morning-nothing too structured or formal, in keeping with the day.
Cally Carter was amazing. She immediately understood our theme and worked closely with me to design beautiful, soft bouquets of English summer blooms.
She was very sensitive to our budget and suggested using lavender and foliage from my father's garden to make the bouquets and centrepieces both more personal and thrifty.
She even had the ingenious idea to double up our pew ends as centrepieces, allowing us to have the 'country garden' feel in the chapel as well as the reception.
I could not recommend Cally at Orchid's Corner highly enough, she gave us the flowers of our dreams within our budget, was unendingly positive, professional and cheery and contributed a great deal to our perfect day."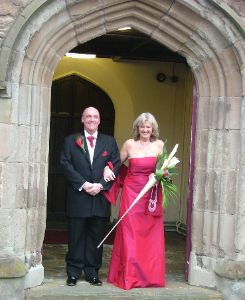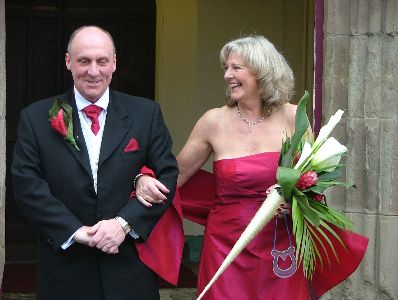 Linda and Steve
"We have always used Orchids Corner in Cookley, Kidderminster and appreciate the one to one and very personal and professional service we receive.
Cal is very good at understanding your needs and wishes and makes helpful suggestions.
Orchids Corners did the flowers for our engagement and wedding "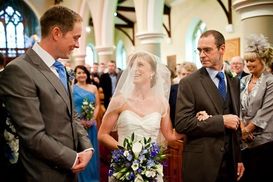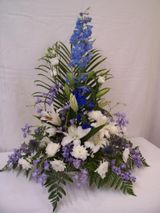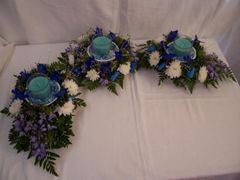 From the beginning of our wedding plans we knew we wanted Cally to be our florist due to the wonderful recommendation from our best friends who were also planning their wedding at the time. We were certainly not disappointed with our choice!
Living in Cookley made it so easy to pop in to see Cally when ever I had some new ideas for the wedding, even when it was nothing really to do with the flowers!
She was always so willing to help and so easy to talk to; in fact one day I popped in for a quick visit and ended up emerging from the shop 3 hours later having had a very productive wedding planning session as well as a good old chat.
On the wedding day when the flowers arrived they were absolutely stunning and far more beautiful than we ever could have imagined. Cally and her mum did a wonderful job and made sure that all of our special requests were answered.
Cally had made sure from the beginning that our choice of flowers would fit in well with the other decorations at our wedding venues and she was
completely right – everything fitted together brilliantly and the flowers really gave everything a special finishing touch.
We would recommend Orchid's Corner without second thought and we thank them again for their wonderful contribution to our wedding.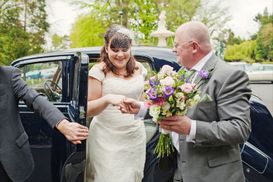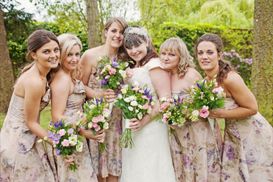 photographs separately taken by "Emma Case Photography"
From the offset of our wedding planning we knew what we didn't want.... those plastic like over the top standard flowers that are routinely used in weddings. We wanted something personal and made to compliment our English garden themed wedding. Having spoke to a few florists we felt as though they were not as flexible on their wedding flowers/packages as we would have hoped. It was deflating as we felt we would end up paying a lot of money for something we wouldn't want or something impersonal.
We then met Cally, she was so accommodating and friendly. She showed a genuine interest in our wedding and researched which flowers would be in season to suit the colours and plans we had.
She involved us in every step of the process from the buying to the arranging. So therefore on the day we could relax in the knowledge that the flowers would not be a surprise and one less thing to worry about.
Everyone complimented the flowers including the personal touches of the lace (which matched my dress) she had used to bind the bunches together.
Cally is professional, friendly, approachable and we could tell she had a true passion for being a florist and her clients. All at a fair price.
I would recommend her to any future brides and grooms.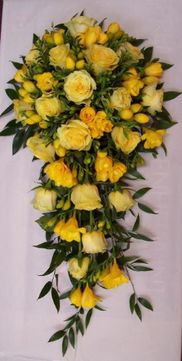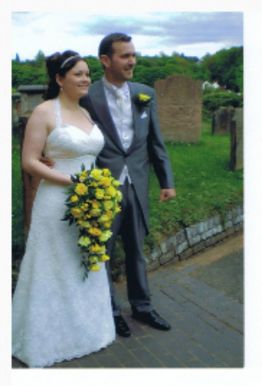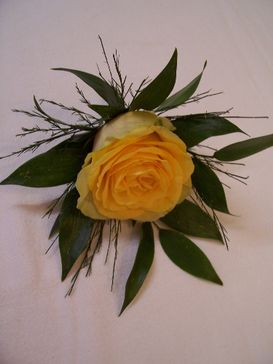 I went to Cally at Orchids Corner for some advice on flowers for my wedding , following recommendation from a friend .
Cally was very friendly and welcoming , and listened to the ideas I had about my flowers that I wanted .
She was able to provide me with expert advice and knowledge about the flowers that I had asked for ,
and was able to provide me with professional feedback .
About what she felt would work for my colour theme ( in May) without forcing me to have flowers and designs I did not want .
Cally was able to provide advice on the cost , to help me stick to my budget ( I felt that her prices were very reasonable and affordable for the service and quality she provides ) .
She delivered them personally and cheerfully to the house on the morning of my wedding ,
relieving any worries I had about who would be collecting them .
I was not disappointed with what Cally had managed to achieve ( I think the photo's above reflects this ) .
We have continued to use Orchids Corner for various other events since then and have never been disappointed with the service and quality of the flowers .

I would highly recommend Cally at Orchids Corner for any event where floral designs are needed .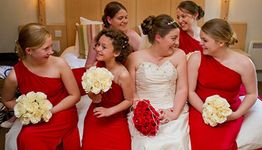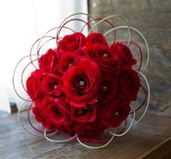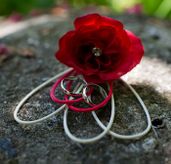 I had had an idea in mind of the type of flowers that I would have like, and with being on a strict budget, I had focussed my attentions on the internet to try and find some reasonable, silk flowers that would match my colour scheme. This was proving really difficult, and my flowers were the last element of the wedding that I hadn't sorted - I was actually having nightmares about it! I contacted a number of florists in the area, but Cally came back to me almost instantly, and I met her that day. She calmed my nerves massively, and I provided her with a budget and a colour swatch to match to my bridesmaid dresses, as well as a photograph of my bridesmaids' artificial bouquets, so that the flower styles matched too.
Within a few days, she had come back with a fantastic bunch of flowers, and made them up as shown in the picture. This again matched my theme well, and everybody commented on how realistic the flowers looked, and how the loops around them made them look so different.
I can't thank Cally and Angie enough for their help with my flowers, and would definitely recommend them for peace of mind, quality and advice over buying online - pictures are deceiving and you never know what might turn up on your doorstep!
Thank you both again .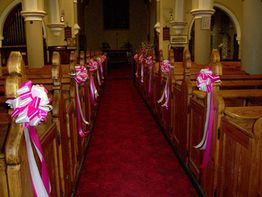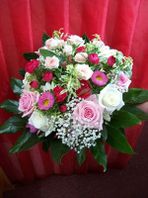 "Cally kindly did the flowers for my wedding day.

She was recommended to me by my now husband as he knows Cally from the village of Cookley.

I arranged to meet with Cally to discuss what flowers I wanted but not knowing the last thing about flowers, the seasons they're available etc, she kindly gave me some ideas. I was quite happy to leave the complete arrangements and bouquet in the hands of Cally but it was important to her that the bride ultimately has the input on what she has on her wedding day.

Nothing was too much trouble and I could see her and call her at any time. I think it was only about 2 weeks before my wedding day that I'd finally decided on what I wanted with total guidance throughout. The timescale wasn't a concern for Cally and even up to the day before, she said if I wanted different flowers I could.

When I went to collect the flowers on the day of the wedding (Cally does them on the day so they're as fresh as possible) I got to see her create a corsage there and then! Very clever and good to see!

On arriving at the church, the flower displays she created for the church were absolutely lovely! I even took them home and they lasted ages - a constant reminder of the lovely day!

I would recommend Cally to anyone who wants a florist with the personal touch! Very refreshing and she has a fabulous laugh!!!!!!"

"Thank you!"

Jo & Ju x